Q: How to report about problem in Aml Pages?
Send us entire information about Your version of Aml Pages.

Choose menu command "Help\About Aml Pages" (or press Ctrl+Alt+F1).
Press button "Copy". All the information from the scrollable list above will be copied to the clipboard
This list contains information about the Aml Pages, Windows and many more.


Q: How to save web pages from Internet Explorer?

Use special plugin

IEAml

. This plugin has pane on Internet Explorer.

This plugin is include to standard Aml Pages

. More information see

here

.

See also

Q: How to save web pages from Mozilla Firefox to Aml Pages?
Select area on web pages in Firefox.
Drag selected area to Aml Assist pane (see screenshot).
Choose "Web Page" and press Ok.
Complete!
See also
See video tutotial here [3.7M].

You can use this solution from the video tutorial also and with IE, Microsoft Word, OpenOffice, Outlook and any applications.

Q: How to import text from OpenOffice.org Writer or Microsoft Word?
Open Your document in OpenOffice.org Writer (or Microsoft Word).
Select entire text.
See also
See video tutotial here [3.7M].
Q: What is Quick Settings Menu?

Q: How to capture selected text from anywhere?
Select text area in any application: e.g. Mozilla Firefox, Microsoft Word and etc.
Press Ctrl+Alt+Shift+F12.
OK! Complete!
You can change the system wide hotkey in menu "Plugins\Aml Assist\Aml Assist Preferences".
See also

Q: How to make CHM-file from Aml Pages document?
Use the plugin Aml2CHM.
Learn more about Aml2CHM
.
Download Aml2CHM plugin. Extract all files from ZIP-archive to plugins folder.
Open any Your document.
Select menu command "Plugins\Aml2CHM\Make CHM-file from entire document".
Click "Make CHM-file".
Complete!
See also

See video tutorial here

Q: How to resize table cells in text?
For table resizing use richedit 6.0 library (this is the system library for text editor). This library available with Microsoft Offiice 2007 or download from here. Extract all DLL-files from ZIP-archive to Aml Pages directory (e.g. "C:\Program Files\Aml Pages").

Enabling using of RichEdit 60
Close all documents.
Click on quick options button.
Choose command "Use RichEdit 6.0" in context menu.

Ok! You can resize table cells at mouse.

Q: How to change user interface quickly?
Use Themes for change of user interface.
Choose menu command "View\Themes\Themes Manager"
Select any theme from list "Available themes".
Click OK for applying of selected theme. Click Cancel to restore previous settings (see to tutorial screenshot on bottom). The themes supports by
versions 9.17 and later
. Themes management provide by free
plugin Themes
.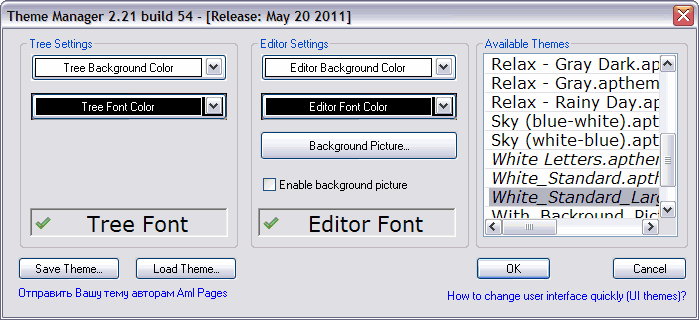 See
plugin Themes

Q: Howto check spelling in Aml Pages?
Try the new plugin Spell Checker.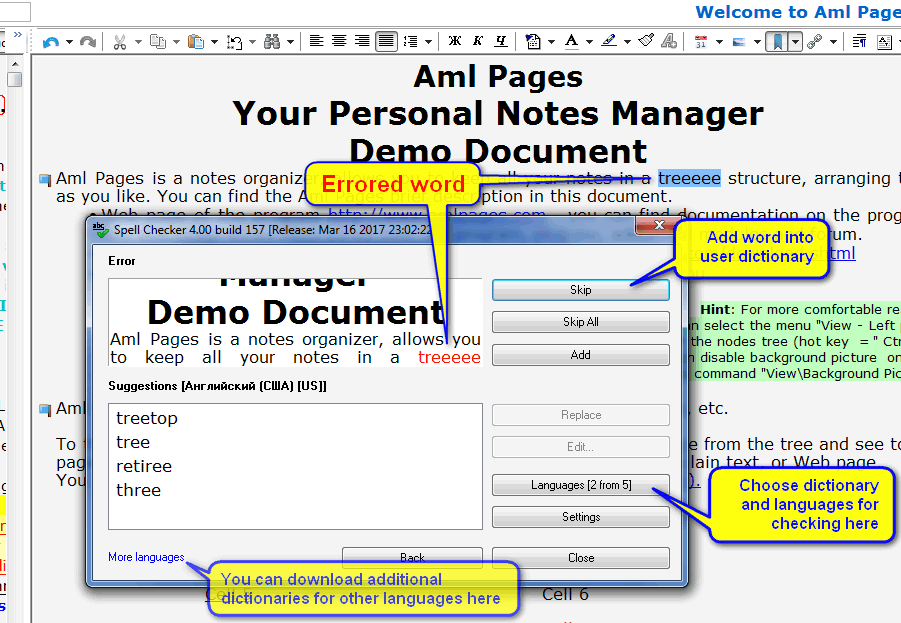 Q: If You need special features or plug-in?
You need special features for Aml Pages?
You can order development special plugin or customization of the Aml Pages. Please, fill
support form here
.
Attention
: Do not forget to type your email for feedback.
Our contacts